Dynamic Precision RF Microneedling Technology
Meet "Agnes RF"
Dr. Pamela Kulback invested in Agnes RF Microneedling technology to offer yet another precision tool to help patients look and feel their best no matter their age. This device is a one of a kind non-surgical Radiofrequency (RF) platform that can sculpt and contour the face, neck, chin as well as other small body areas. This treatment creates more youthful looking skin by stimulating collagen and elastin production, providing long lasting unmatched results without surgery. Agnes RF is perfect for the treatment of skin laxity, eye-bag reduction, treatment of scars and much more. Agnes RF can be performed as a stand alone treatment or performed in conjunction with laser skin rejuvenation, Subnovii Plasma Pen,  PDO Threads, and many other nonsurgical skin rejuvenation treatments. The Agnes RF provides the precision required to customize the results for patients of all ages and skin types
. Dr. Kulback was particularly impressed with the results of patients with fatty deposits below the eye (often referred to as Eye-bags).
The patient featured her had the Agnes RF treatment for the upper and lower eye area. The photograph was taken immediately before and after treatment. Bruising and swelling subsides within 5-7 days on average. Results are long lasting and can be repeated to achieve even better results. The procedure is minimally invasive with minimal downtime.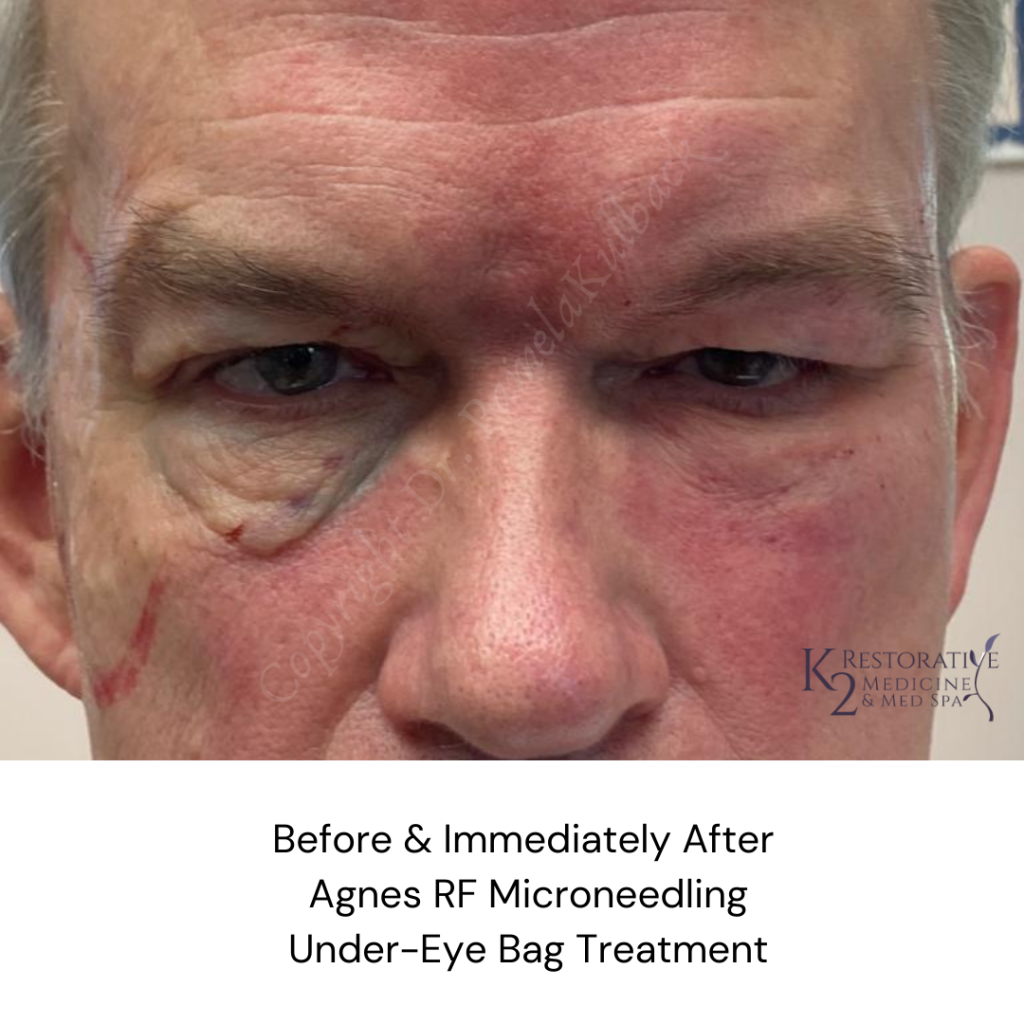 AGNES MICRONEEDLING RF BENEFITS 
Safe, effective, reproducible results on all skin types with no seasonality or skin type restrictions

Quick Procedure time; 30-minute treatment provides measurable result

The Agnes RF is a lunchtime procedure with little to no downtime, creating surgical-like outcomes for your patients
Ready to book your consult to learn if you are a candidate for Agnes RF? Submit the form below and we will get back with you to confirm your appointment or offer an alternative time and date. below and we will get back with you to confirm your appointment or offer an alternative time and date. 
Appointment Request
Request your complimentary Consultation