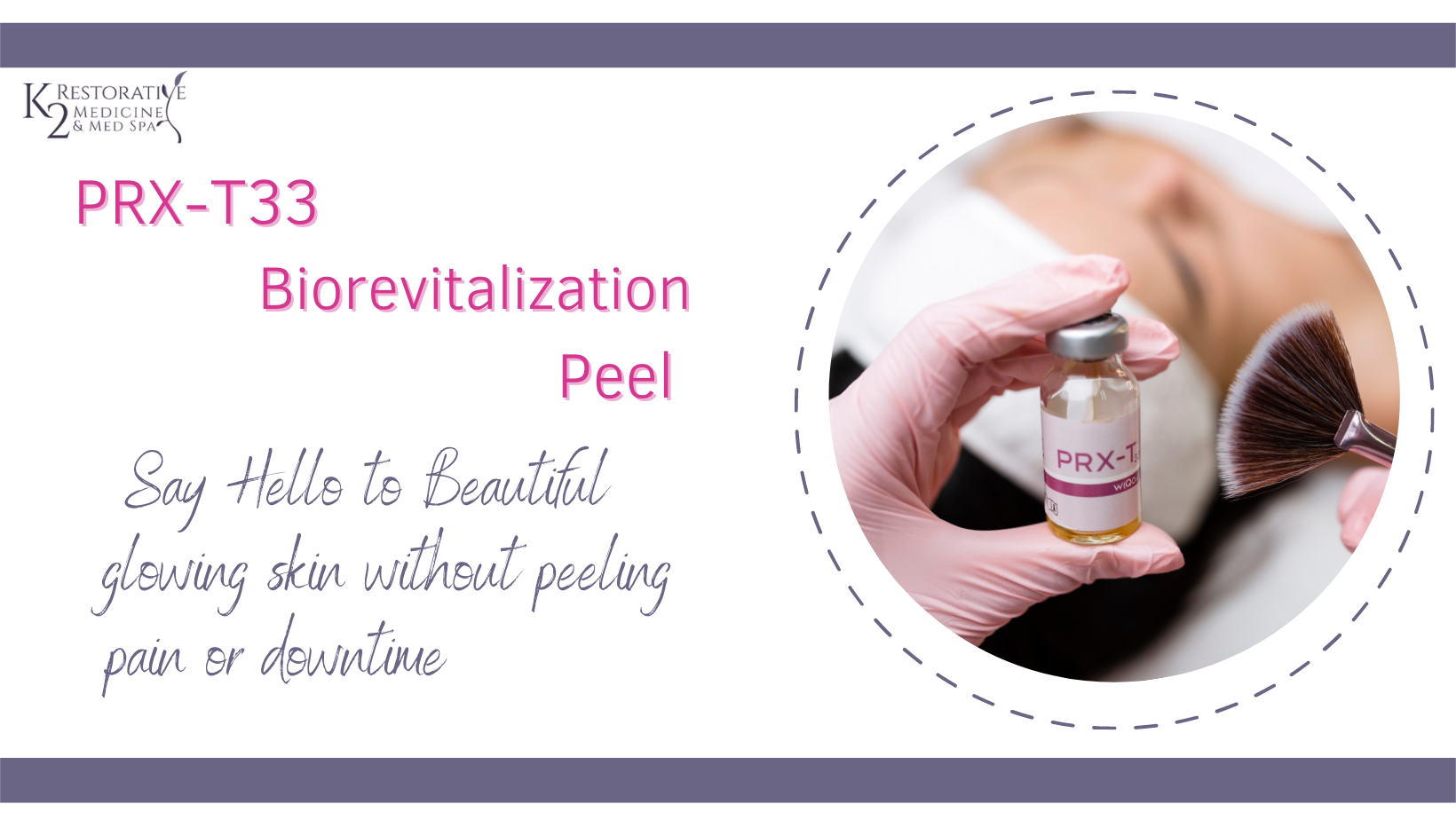 The PRX-T33 Biorevitalization Peel
Dr. Pamela Kulback invested in the PRX-33 Biorevitalization Peel because she wanted to offer her patients another option that does not require any downtime without losing its effectiveness.  This chemical peel is not a traditional peel in the sense that it bypasses the outer layers of the skin  and is therefore non-peeling. Her staff at K2 Restorative Medicine and Med-Spa can safely treat all skin tones, all ethnicities, and men and women can equally benefit from this treatment.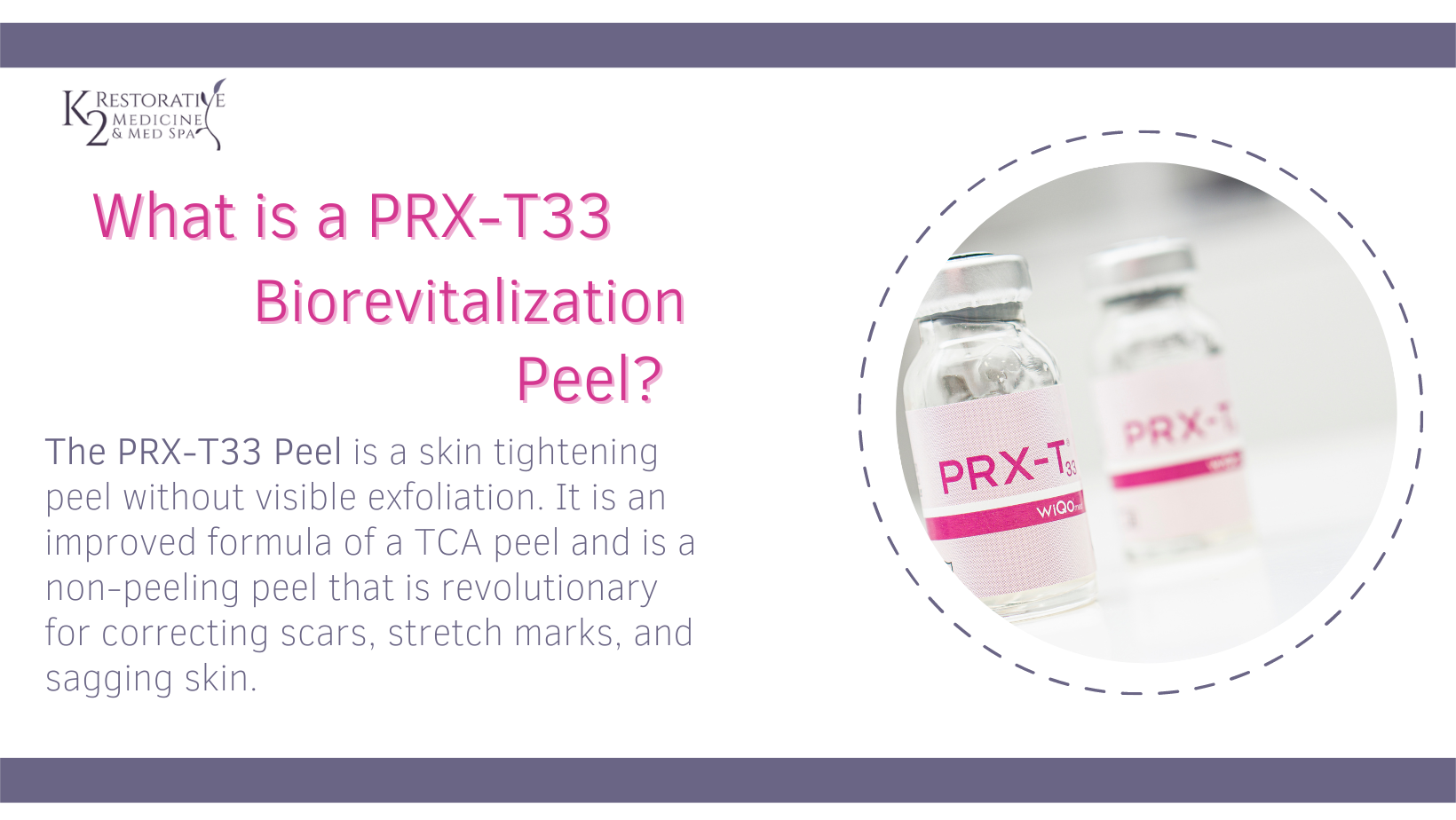 How does the PRX-T33 Biorevitalization Peel work?
The PRX-T33 contains a combination of trichloroacetic acid, hydrogen peroxide and kojic acid. The peel penetrates deep and acts on the epidermal layer down to the basal layer, stimulating regeneration of new skin cells and therefore renewing the skin. 
What can patients expect during treatment with the PRX-T33 Peel? 
After cleansing and drying the skin the PRX-T33 peel is applied by massaging the clear gel into the skin with a lot of pressure to allow the solution to deeply absorb in to the deeper layers of the skin until it is absorbed. Each session will include between 2-3 applications on average. Then the skin is cleansed with a water soaked pad  followed by a moisturizing nourishing cream. The treatment is pain-free and does not require numbing. The peel usually takes between 20-30 minutes and patients can return to their daily activities after that. There is no downtime and patients do not have to avoid the sun because this peel is not photosensitive. SPF50 or higher is always recommended. We personally love Dr. Pamela Kulback's physician's developed SPF available at K2 Med-Spa and we also like Sunbetter SPF products by Skinbetter Science, available online and at K2 Med-Spa. Whichever sun protection you choose make sure it's mineral based broad spectrum SPF50 or higher.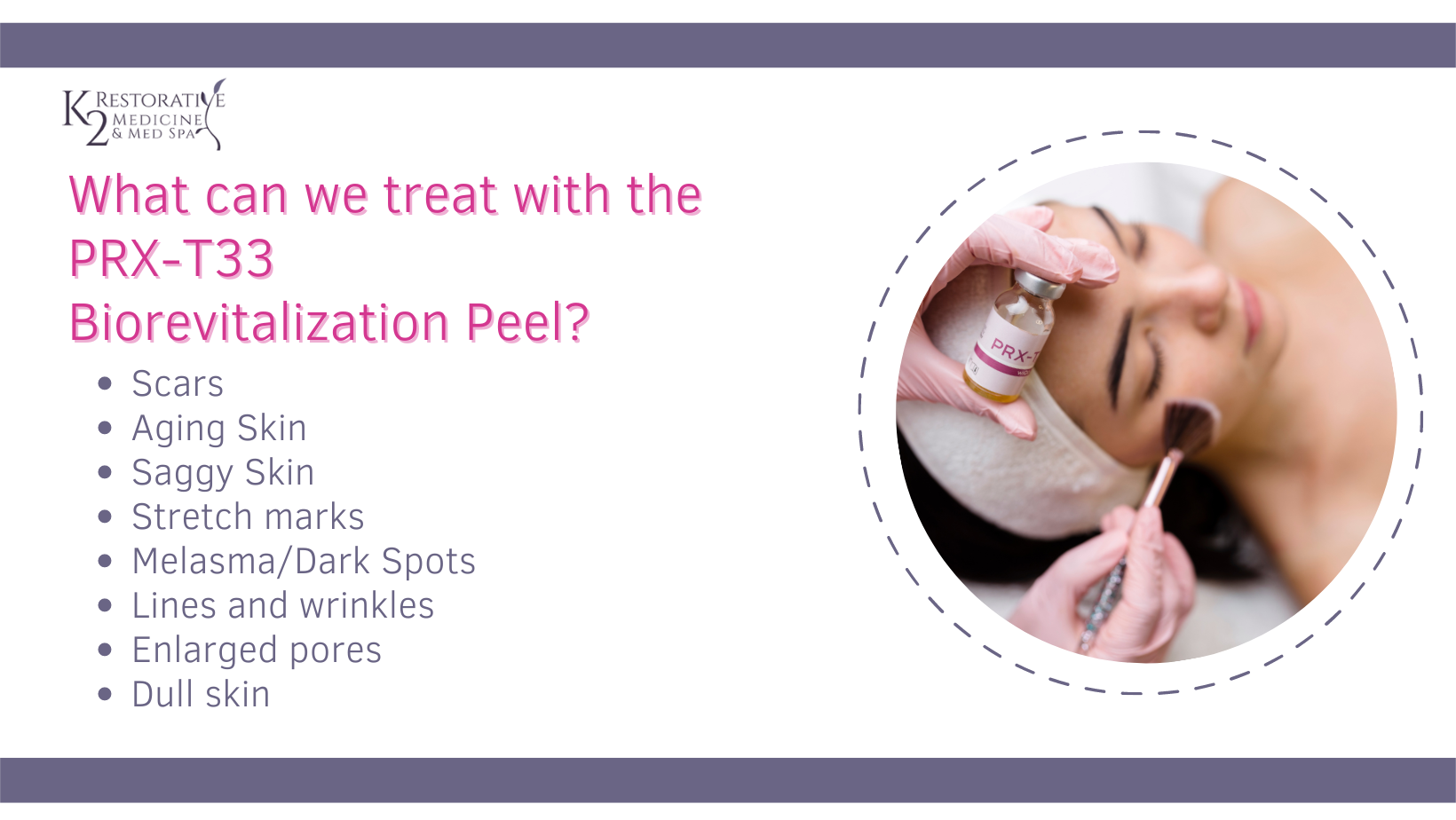 There are so many benefits to this Peel, but the some of biggest benefits in our book is that the peel visibly tightens skin minimizes scars, reduces pigmentation issues, and improves overall skin health within as little as 4 peels spaced 1 week apart. Of course there is an endless number of additional reasons why our patients absolutely love this peel. 
First, Dr. Pamela Kulback analyzes her patients skin utilizing a sophisticated 3D imaging system. Based on the system's results, her own findings and her patients skin goals, she often recommends combination treatments such as Virtue RF Microneedling, CoolPeel Laser, SkinPen with PRP and customized Anti-Aging Skincare products. If you are interested in learning more about what treatments might be ideal for your skin concerns, we ask that you contact us by requesting an appointment utilizing the form below. We look forward to hearing from you soon. 
Appointment Request
Request your complimentary Consultation