Body Sculpting & Fat Reduction
Body Sculpting & Fat Reduction using RF Technology
Trouble Deciding BodyFX vs Coolsculpting? Click To Compare Them!
Non-invasive, targeted fat reduction, body contouring and skin tightening treatment. The only fat reduction procedure that tightens skin.
Applicator pinpoints areas of treatment for custom contouring and body shaping.
Destroys fat cells via radio frequency and heat. Fat cells disappear safely through apoptosis. Radio frequency creates heat deep in the skin to tighten it up. Radio frequency and heat melts fat cells slowly over time.
Hands on and physician operatedduring the entire treatment. Allows for safety, flexibility, and communication during treatment. Doctor and patient are a team during the procedure.
May improve the appearance of cellulite.Reduces dimpled skin, may address loss of elasticity on the abdomen, love handles, hips, thighs and other areas
Best results are seen 2-4 months after the procedure. Fat cells may continue to melt away even after 6 months.
A series of 8 treatments within a 4-8 week period is recommended for best results. Second and third areas of treatment are discounted 50%. Maintenance sessions are recommended 2-3 times annually post treatment to achieve optimal results.
15-30 minutes per area. Up to three or four areas may be treated on the same day.
You may feel warm massage vacuum pressure during the procedure
Side effects – Patients will notice some redness and warmth in the treated area which will subside within a few hours. The warmth is equivalent to the sensation that felt after a deep tissue massage. Regular activities can be resumed immediately.
Non-invasive, non-targeted fat reduction. No skin tightening capability so post fat loss result is often saggy skin.
Non-differentiating applicator directs treatment arbitrarily. No option for custom body shaping or contouring.
Cold based technologycools the fat cells to just above freezing causing crystallization. Fat cells disappears slowly over time.
Patient left unattendedonce machine is set up and patient is undergoing treatment. A paging system automatically alerts staff of any device or patient issues that need attention.
ZELTIQ does not recommend the CoolSculpting procedure for cellulite at this time.
Best results are seen 2-4 months after the procedure.
One or two treatments required on each applicator area. Priced by the number of applicators utilized per treatment. Additional procedures may be administered two to four months after the initial procedure to achieve greater fat reduction.
1 hour per site being treated. Up to three or four sites may be treated on the same day.
You may feel pressure and intense cold during the procedure
Side effects – Patients will experience mild bruising; It is common for the treated area to feel bloated and look swollen for up to 1 month. Patient may experience temporary blanching of the skin or redness. The treated area often feels sore when touched for 2-7 days and may feel a temporary dulling or numbness in the treated area for 2-6 weeks. Potential complications with freezing include skin damage, ulceration or scarring; prolonged or severe pain; abrupt fat layer changes, including "step-off" changes, a visible step like depression due to treatment induced unevenness of fat under the skin; and paradoxical adipose hyperplasia, the development of new fat deposits instead of fat being melted away.
The BodyFX is a fat reduction device that also works to tighten the skin, The technology is based on Radiofrequency (RF). The science of Heat.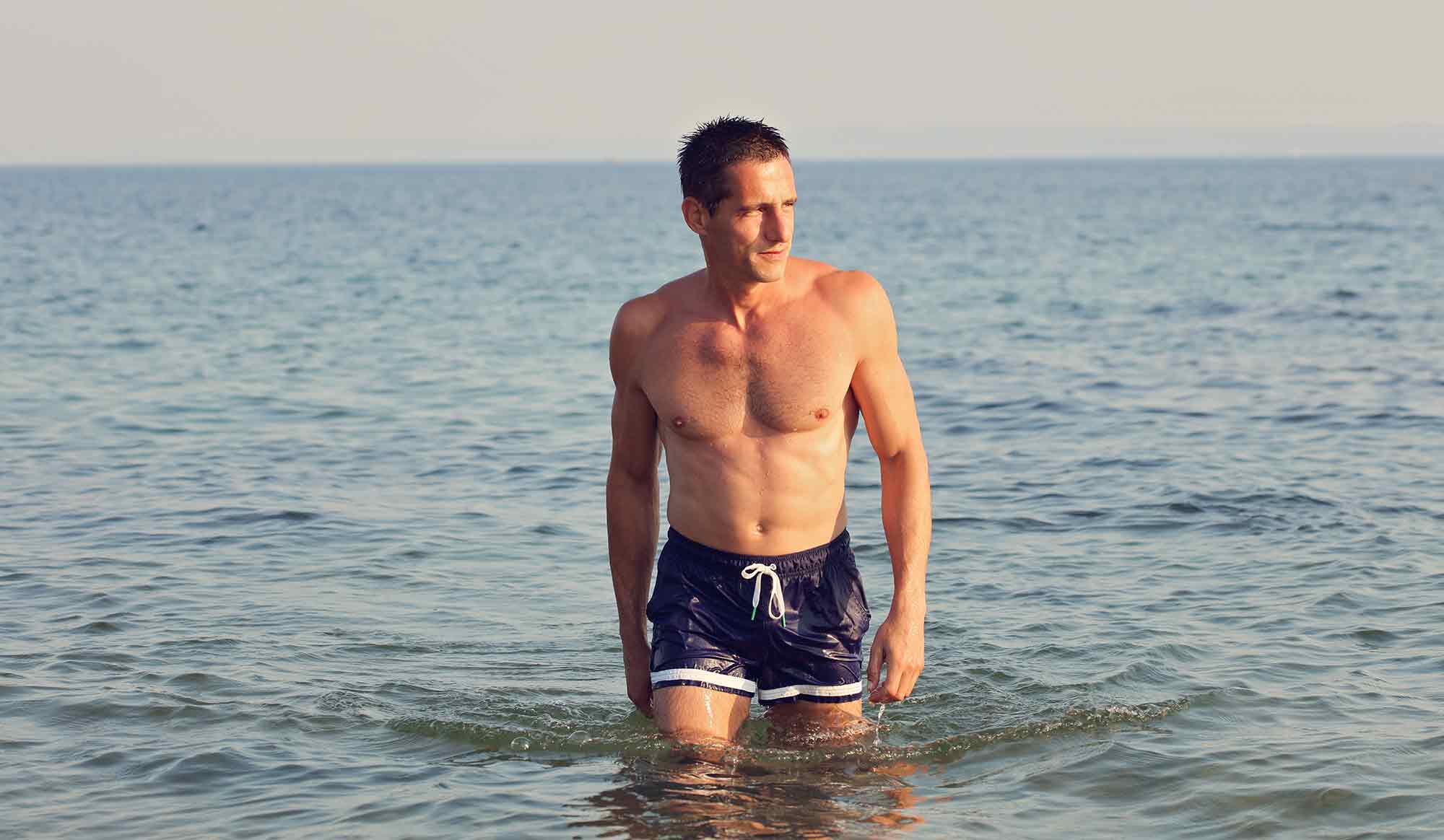 Body Sculpting using the Science of heat. Achieve Fat Reduction and Skin Tightening with the BodyFX 
RF Technology enables the physician to achieve superior results without the downtime or pain of other treatments. 
Radiofrequency energy selectively heats fat cells, leading to their destruction.
Fat cells are eliminated in a controlled and gradual manner through the body's own mechanisms.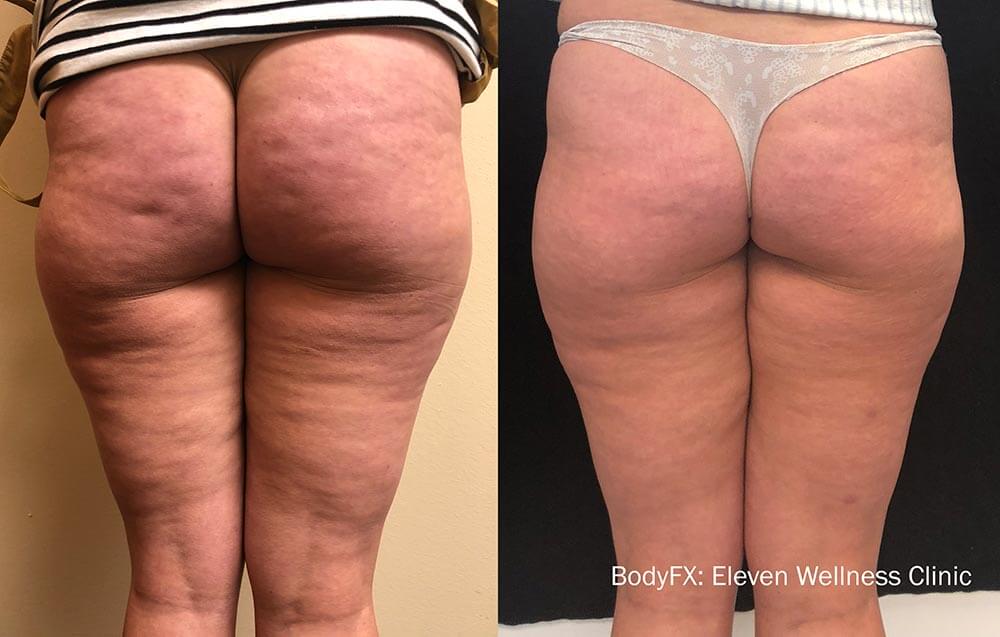 Body Sculpting & Skin Tightening with BodyFX
Radiofrequency translates into thermal energy and when applied to the skin it can penetrate deep into the dermis without damaging the surrounding tissue or the outer layer of skin (epidermis). This means maximum results without the downtime of surgical procedures.
Unlike other methods such as Coolsculpt which use the cryo method (cold temperatures) to freeze the fat to kill fat cells, the controlled high heat energy emitted by Body FX not only reduces fat, it helps to tighten the skin at the same time.  FREEZING THE FAT DOES NOT TIGHTEN SKIN! Quite the opposite.
BodyFX involves no downtime and is virtually pain-free. Patients may experience minor redness lasting only a short time.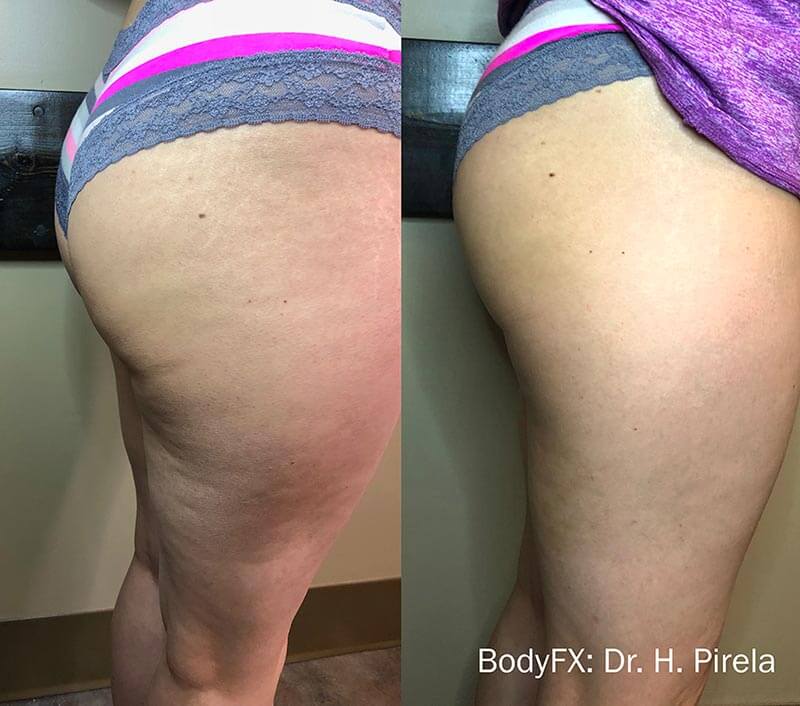 BodyFX vs. Coolsculpting
BodyFX is often compared to Coolsculpting, which is one of the most popular non-surgical treatments to remove fat. Coolsculpting freezes fat cells in order to destroy them; BodyFX, on the other hand, heats up these cells but the end result is the same. However, the heat process of BodyFx can provide the added benefit of firming the skin. Another point of consideration is that a recent article in Cosmetic Surgery Times discusses complications that occurred in patients following Coolsculpting. A doctor who is familiar with the technology explains that "potential complications with cryolipolysis include skin damage, leading to ulceration or scarring; prolonged or severe pain; abrupt fat layer changes, including 'step-off' changes; and paradoxical adipose hyperplasia." (This means, an unexpected fat deposit appearing instead of it being reduced)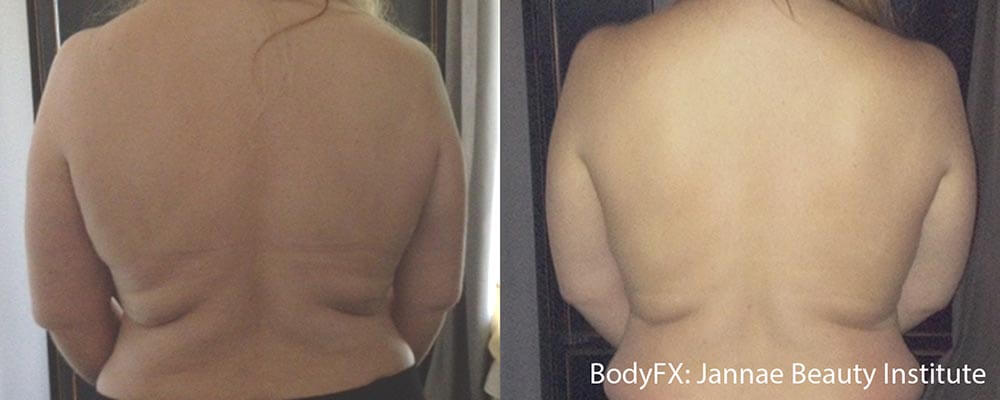 BodyFX is virtually pain-free and often coupled with other Radiofrequency devices for even better results.
Slim Down and Tone Up with the latest Radio frequency device called Fat Destroyer—The Contoura.
This method has 3 modalities that are the latest cutting edge technology for non-invasive fat cell destruction and skin tightening.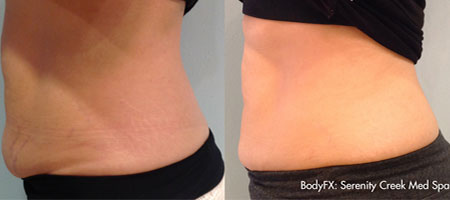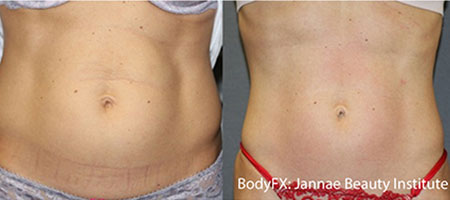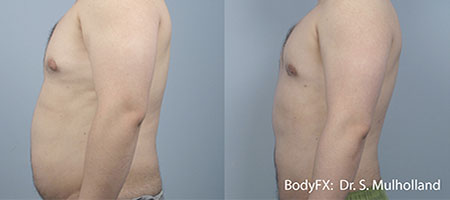 BodyFX utilizes RF Technology to tighten skin and reduce fat #bodysculpting
This is a unique powerful, non-surgical, noninvasive alternative to liposuction for fat reduction.
Heat the fat cells. Destroy them. Shrink the tissue. Tighten skin. 
kills fat cells and treats unwanted cellulite in larger body areas (abdomen and thighs)
no liposuction needed as the fat cells are gradually absorbed by the body after they are destroyed
is not painful
an improvement over cool sculpting as it tightens skin while it kills fat cells so no residual saggy skin!
no downtime – skin has mild redness for a short period of time
safe for anywhere in the body that has unwanted fat and cellulite.
not for large quantities of fat removal
optimal results are achieved with 6-8weekly treatments
can be done during lunchtime break
Is a noninvasive technique similar to BodyFX that is uniquely designed for fat and cellulite destruction in smaller areas of fat accumulation such as underneath the chin, bra fat, arms and knees.
These are areas difficult to treat with less specialized technology.
Feels like a warm skin massage!
''GETTING RID of SAGGING SKIN"
Forma Plus is a new cutting edge noninvasive technology that uses radiofrequency to selectively target the deeper layers of the skin.
It stimulates new collagen production, which is the foundation of your skin, for long-lasting results.
It improves skin elasticity.
safe (constant skin temperature monitoring) and painless
optimal results generally occur with 6-8 weekly treatments (fewer treatments if used with Fractora).
This is a device like Forma for the face but is used to treat and tighten larger areas of the body such as:
K2 Restorative Medicine is committed to offering the latest noninivasive technology while achieving maximum results.
Request your appointment with Dr. Pamela Kulback today.
Appointment Request
Request your complimentary Consultation