Dr. Kulback is a native of West Virginia who originally came to Alabama to obtain a Masters Degree in Nursing at UAB. She went on to receive a medical degree from UAB and did both Internal medicine and Radiology at the University of Arkansas. She came back to Birmingham to do a Nuclear Medicine residency and fellowship in Cardiothoracic Radiology at UAB. She is board certified in Diagnostic Radiology and practiced interventional, musculoskeletal and neuroradiology for many years.
She has been a Regional Medical Director for a Telemedicine company in Birmingham, participated on committees for the Jefferson county medical society and a member of the admissions committee for UAB school of Medicine
In 2000 she attended the first International Symposium on Aging with leading experts from around the world in all phases of skin and body aging issues and has been interested in anti-aging medicine since that time.
She is a member of the Cellular Medicine Association.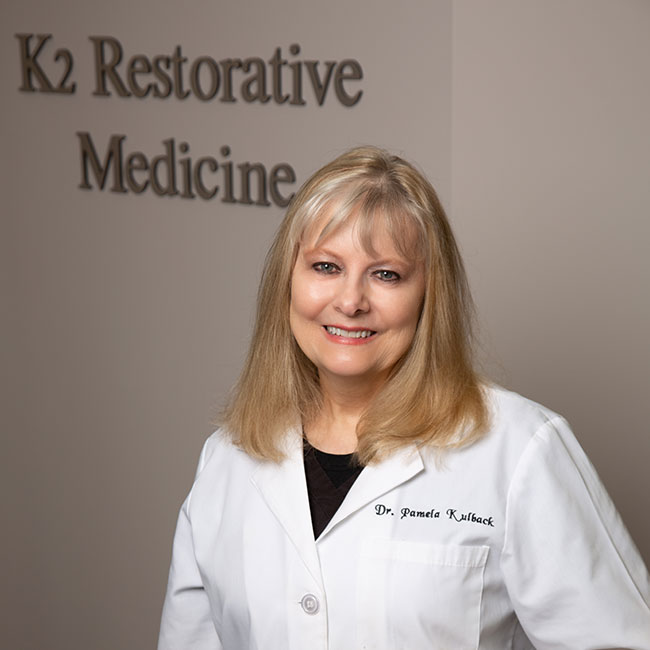 She has trained with the world-renowned inventor of the Vampire Facelift, the O-shot and the P-shot, Dr. Charles Runels. She has also trained with leading experts in facial Aesthetics at the Esthetic Skin Institute in Fort Lauderdale, Florida learning techniques in Botox and injectable fillers Dr. Kulback has trained with many of the leading experts in Sports Medicine and musculoskeletal diseases using ultrasound guided joint injection techniques with Platelet Rich Plasma (PRP) therapy. She uses the highest quality FDA approved centrifuge for PRP therapy.
Dr. Kulback is licensed to practice medicine in Alabama, Georgia, Florida, Tennessee and Texas.
Dr. Kulback is passionate about all areas of Restorative Medicine and would be happy to meet you and discuss treatment options.