Ready to remove unwanted hair? 
The Diolaze Laser Hair Removal System combines power, speed and cooling to provide a fast, effective and comfortable laser hair removal experience.
Say GoodBye to Bumps and Ingrown Hairs! 
This is one of the great beneficial side effects of laser hair removal. Reduction of hair bumps and ingrown hairs will be markedly noticeable even after your first session. We have seen this on all body parts including face, neck, bikini line, legs, backs, and underarms.
Do Hair or Skin Color Affect This Laser Hair Treatment
Lighter hair is very difficult for the laser to treat because the pigment in the hair is what attracts the laser beam to destroy the hair growth. Dark-haired clients with fair skin are the easiest clients to treat, but we would love to see you for a free consultation to let you know if you are a good candidate.
Is there downtime?
No there is no downtime with this Laser Hair Removal Method. Direct sun exposure is not recommended for several days after treatment. Wear Sunscreen (SPF30 or higher) at all times. 
Ready To Book Your Appointment?
Dr. Pam Kulback at K2 Restorative Medicine offers free consultations to patients at both locations.
Together you will discuss your treatment options and whether or not you are a good candidate. 
What Results Should You Expect From This Laser Treatment? 
Less Hair + Less Shaving! Most of our patients experience an 80-90 percent reduction in hair growth. On top of that, the remaining follicles will be finer and thinner therefore limiting or eliminating the need for shaving. No more razor burns. 
About two to three weeks after your first session, you will begin to notice less hair, slower-growing hair and even some hair falling out.
Does This Laser Hair Removal Treatment Hurt? 
Dr. Kulback loves the Diolaze Laser Hair Removal System because of it is virtually pain-free. Diolaze offers superior cooling technology that when combined with numbing cream, allows for a painless hair removal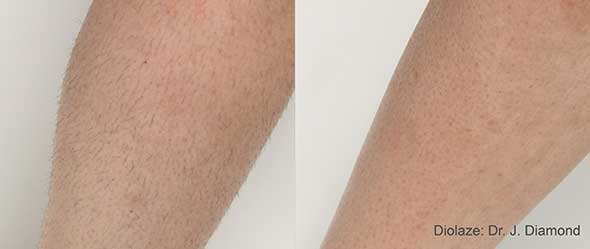 How Soon Should I Notice A Difference? 
 K2 Restorative Medicine patients can expect to see results between two to four months after the first treatment. 
Where Are We Located? 
We offer Diolaze for permanent Hair Removal in Trussville, Alabama and Panama City Beach Area.  Our Medical Spa offers more than just Laser Hair Removal! Learn more about our Services and visit our Specials to take and advantage of our current offers! 
Book your appointment today by calling us at 205-255-1232or book online by submitting the form below.