The Latest In Skin Resurfacing Morpheus 8 + CoolPeel
Dr. Kulback prioritizes giving our patients access to the most advanced treatments for Beauty and Anti-Aging. In, fact K2 Restorative Medicine Med Spa was one of the first Med-Spas in Alabama to offer CoolPeel Laser Treatments Pre-Covid. The combination of Morpheus 8 + CoolPeel for skin rejuvenation made complete sense on more than one level. 
Are You Looking For a Faster Way To Achieve Your Skin Goals?
In a world of post quarantine, our patients are rushing to book treatments to make up for time spent away from their beloved aesthetic practices. Morpheus 8 and CoolPeel offer lasting and immediate results that only get better with time. 
Dr. Kulback wants to help her patients make up for lost time! Book your treatments together for even better results! Save time and money by combining treatments that compliment each other! 
Combination treatments allow us to help our Alabama patients maximize results in a single session.
Morpheus 8 + CoolPeel = Beautiful Skin No Matter The Season. 
These treatments are the ultimate duo skin rejuvenation. We combine the latest RF Microneedling device on the market, Morpheus 8, with an exclusive NO downtime Laser called CoolPeel. Treatments exclusively distributed by Cartessa Aesthetics and Inmode, two of the top nonsurgical aesthetic technologies on the market!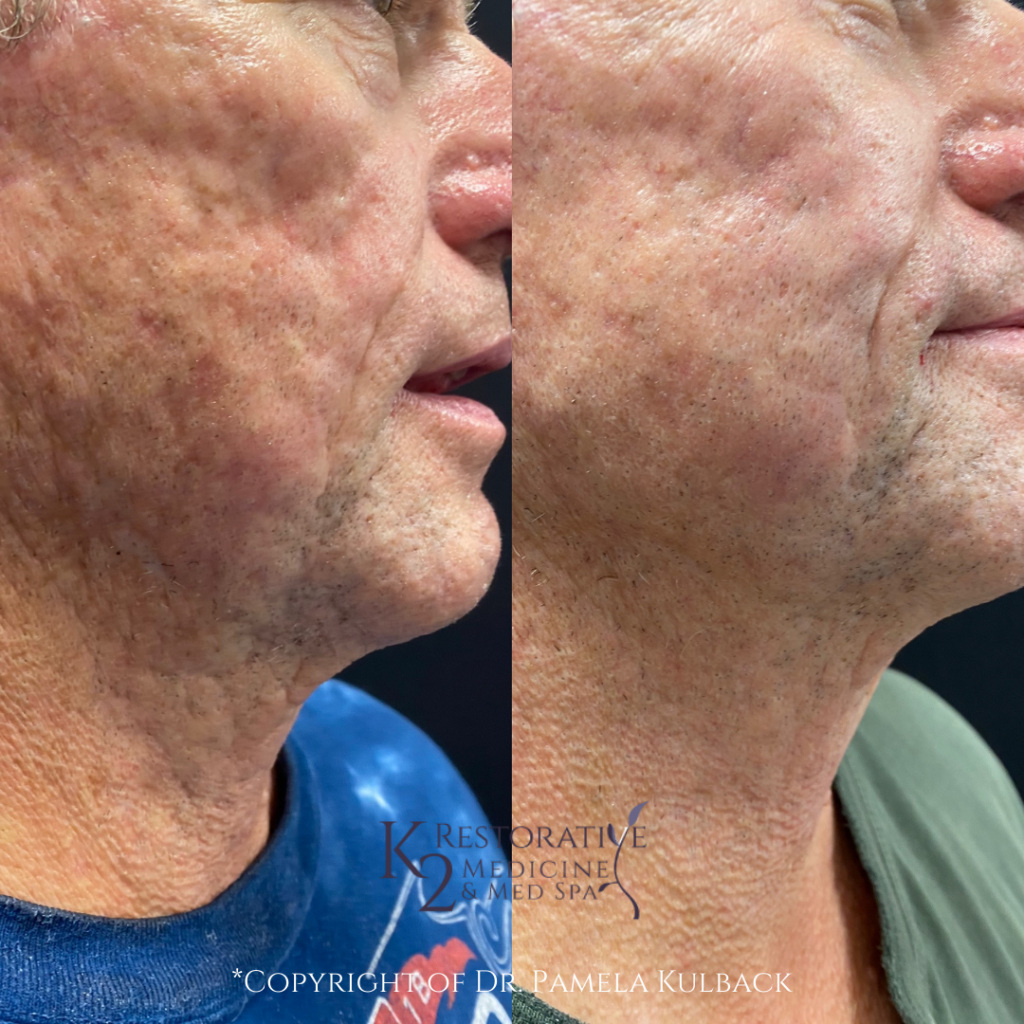 The Morpheus 8 combines microneedling with radiofrequency technology for fractional resurfacing that stimulates collagen production. By targeting the deeper layers of the skin, the building blocks will reorganize themselves in a natural anti-aging process. There is little to no damage to the dermis, and this procedure provides an extremely uniform effect. We recommend 1-3 treatments for maximized benefits. Visible results become visible as soon take three days post-treatment. However, patients shouldn't expect the best results until at least three weeks after their procedures. 
 The CoolPeel is an extension of the Tetra CO2 laser system that leverages the exclusive H-pulse. This high-peak-power short pulse delivers a fully-ablative treatment without causing thermal damage to surrounding tissue. Without thermal damage, downtime drastically minimizes while producing impressive superficial, skin-resurfacing. Dr. Kulback recommends three treatments. Patients can expect results one week post-procedure!
What Makes Combing Morpheus 8 + CoolPeel So Powerful?
Combining these two treatments allows for the stimulation of healthy cells and collagen on both the superficial and deep layers of the skin. The adjustability of these treatments allows Dr. Kulback to customize the laser and microneedling features for each patient's needs with MINIMAL DOWNTIME. Morpheus 8 utilizes radiofrequency energy to remodel and contour the face, while the CoolPeel produces a superficial injury by delivering high energy in extremely short pulses. The outcome, impressive superficial skin resurfacing results, and the immediate and continually improving results of deeper collagen stimulation.  
Target Skin Damage & Wrinkles While Improving Skin Tone & Texture
A Full-Face CoolPeel takes only about 15 minutes, so both treatments combined can be completed in about an hour and a half by our experienced physician in Alabama. Patients can count on additional time for numbing and patient forms. You should also expect not to wear makeup for 24 hours and only use mineral makeup following the procedures for 10-14 days. 
We recommend scheduling your follow-up visits 2-4 weeks after your treatments. The follow-up visit allows Dr. Kulback to check on your results and address any concerns you may be having. Book your consultation with Dr. Kulback and our team by giving us a call today at 205-255-1232, or book your appointment online by filling out the form below.  
Appointment Request
Request your complimentary Consultation